ACHeck21 Premiere Check Imaging Remittance Program that Effortlessly Reduces Costs
Accelerate Receivables with Quick Image Capture
ACHeck21 Premiere equips your business with a full suite of processing capabilities to streamline even the most complex remittance operations. ACHeck21 Premiere is a check imaging remittance system which converts paper checks to electronic transactions and updates bookkeeping systems.
Fully compatible more than 100 models of document and check scanners
Quickly scan multiple document types, including checks, payment stubs, and specialty forms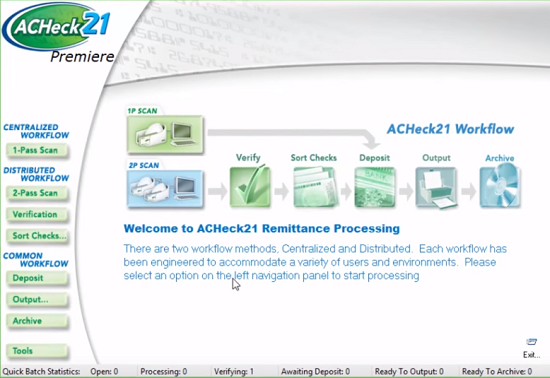 Process ACH and Check21 in a Single Workflow, for Multiple Depository Accounts
ACH and Check21 are the two main protocols for bank to bank transfers. While the rules and file formats differ, ACHeck21 Premiere simplifies remote deposit capture for you by managing both as a single workflow.
Maintain control of the full processing cycle
Workflow that suits your business and your bank's remote deposit requirements
Centrally process and reconcile all transactions from multiple locations and scanners
Intelligent Routing Automates ACH Conversion for Effortless Cost Reduction
Converting checks to ACH payments has great potential to reduce payment processing fees for vendors. ACHeck21 Premiere Intelligent Routing dynamically reduces your costs by converting eligible checks to ACH, and non-eligible checks to Check 21.
Automatically identifies which items can be converted to ACH
Save time and reduce costs without manual processes
Never overlook an opportunity to reduce payment processing costs
Check Scanning Enhanced with Situational Awareness
ACHeck21 Premiere is an intelligent app, capable of considering additional data in automating your remittance processing. The system can also scan any included payment stubs, and take that data into consideration to confirm amounts.
Customizable stub setup
Include barcodes, set up custom fields, and teach the app what data to capture
Reduce Risks with Fraud Detection
When processing check and stub images, ACHeck21 Premiere reads MICR data and leverages a2ia CheckReader™ for Optical Character Recognition (OCR), then calculates your total for deposit. The app then sends your deposit to the ACHeck21 FinTech Cloud for further processing, which includes extended OCR, CAR/LAR, MICR.
Alerts for unresolved issues prompt manual review and editing
Securely empower your team with role-based user access
Connect with Your Bank and Automatically Update Your Accounting Software
Our technology is flexible, and our multiple deposit methodologies can easily meet unique remote deposit needs. Easily integrate processing output with your existing enterprise system for faster posting and cash recognition. ACHeck21 Premiere also digitally endorses checks.
Easily integrate with any bank
Download check data directly into online accounting packages using standard formats like CSV
Customizable output files can be fixed width text or CSV format
Customizable Remittance Output and Reporting
When making a deposit, the custom fields you set up in ACHeck21 Premiere transition to our gateway, ACHeck21's online depository service. You can also search your custom fields on the gateway itself. With ACHeck21 Premiere, you can access archive data, search for past payments, and see everything a customer has paid.
Customize reporting
Connect to third party services to conduct verification